"In 2005, with just a handful of cool climate grapes, I released one wine - the Marked Tree Red shiraz.
Scroll forward to today, and we are known for a range of wines that sing with a purity of regional expression and varietal definition.
Come and seek out the best of the region with me."
- Alex McKay, winemaker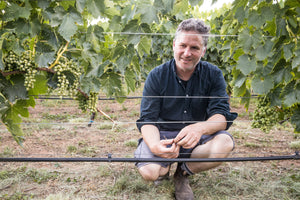 Having grown up in the area, Alex got his first taste of winemaking with Edgar Riek, a pioneer of the Canberra District at Lake George. But it was working as winemaker for Hardys' flagship winery in the district from 2000 that really developed his intimate knowledge of the region, climate, soils and vineyards.
Discover more of our story
Cellar Door
Our Cellar Door is currently closed for renovations, as we're taking the time to prepare a fresh, welcoming experience in a new space. We can't wait to
show you glimpses of our new space in late 2023, taking you along the journey as we prepare to reopen and welcome you back for a tasting experience.

In the meantime, we continue to send out orders daily across Australia, so check our online shop for info on the latest wines and releases or sign-up to our Friends of Collector wine club for exclusive pricing & offers.
NEW RELEASE RESERVE SHIRAZ
"A pristine and captivating shiraz from every angle... Complex, compelling and utterly delicious at the same time.
Buy now
Our Wines
Shop our wines and taste the terroir - from Canberra District classics like riesling and shiraz, to Tumbarumba chardonnay and Hilltops fiano.
Shop our range here